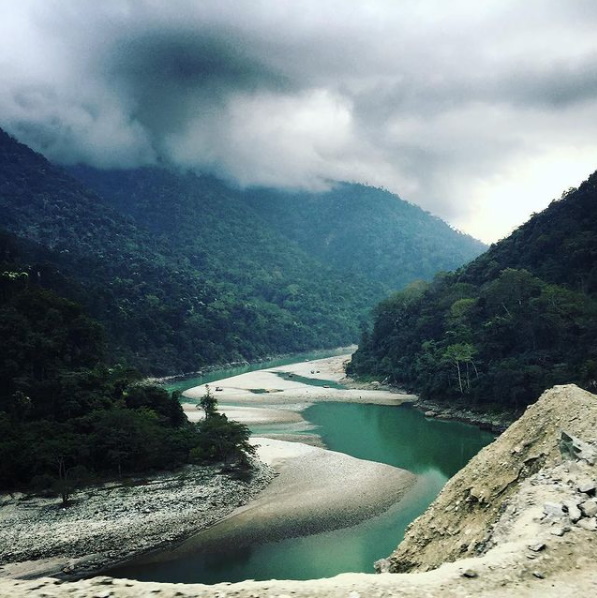 Buddha Pāda is a 3-hour journey from Bagdogra airport, through winding roads along the Teesta river valley, and just a 20-minute drive from the town center of Kalimpong.
The center can provide accommodation for about 70 people. It has 3 teaching halls, referred to as dojo with capacities ranging between 50 to 400. It has two separate dining areas and kitchens and three classrooms that can each accommodate 20 participants. It has an upcoming library and a Japanese tea room and cafe with audio visual facilities.
Presently, there are direct flights from Delhi, Guwahati, Kolkata, and Mumbai to Bagdogra (Siliguri) and all major domestic airlines offer good connectivity from various cities. There are many connections by train and bus.
Local taxis can be availed from outside the airport to reach Kalimpong.

LIST OF THE HOTELS AND GUEST HOUSES FOR ACCOMMODATION
(All on the upper road side of the Gompa)
Name of Hotel
& Guest houses
Contact Person
Total Rooms
Double Occupancy
Single Occupancy
Dormitory/ Cottage
Remarks
Wayside Inn
12 Mile, Kalimpong
Mr. Prem Sharma
9800790867
3
Room type 1
Rs.2000/-

Room type 2
Rs.1500/-
Rs.3000/-
( 5 beds )
You can also accommodate 3 - 4 persons in double occupancy rooms.

Food cooking is not available, but can cook yourself.
Neena's Kitchen
12 Mile, Kalimpong
Mrs. Neena Pradhan
8670746969
3
Rs. 7500/-
Rs. 6000/-
Rate includes full Course meal
Ujjwal Home Stay & Restaurant
12 Mile, Kalimpong
Mr. Ram Chettri / 9733009123

Mr. Ujjal / 8016449370
5
Rs.1500/-
Tea will be served in the morning. Meals available on order
Raunaq Guest House
12 Mile, Kalimpong
Mrs. Pushpa Jali Pradhan (Angali)
7602043365

Whatsapp : 9382095833
6 +
1 Hut
Room type 1
Rs. 1700/-

Room type 2
Rs.1200/-
Rs.2000/-
( 5 Beds)

Rs. 1000/-
1 Hut
Room with breakfast. Breakfast will
be same to all the guests. No separate
breakfast will be entertained.

Bank: Central Bank
A/c Holder: Pushpanjali Pradhan
A/c No: 1997615311
IFSC No: CBIN-0280126
The Orchid Retreat
12 Mile, Kalimpong
Mr. Janat Sharma
8768053304
8900098320
10
8
Rs. 1200/-
Rs. 1200/-
Room with breakfast.
Note:Breakfast will be as per hotel memu and no separate breakfast will be entertained.
Dhardo Resort
13 Mile, Kalimpong
Mr. Buddha Tamang
9674318333
7
Rates n.a.
This resort, you have to book via
Retreat (Hotels and resorts).

For Reservation contact:
Mobile No: 9007352111
The Thumpers Cove
Below 12 1/2 Mile, Upper Pudung
Mr. Rishi Raj Pradhan
8159964724
8367500293
2
Rs.2500/-
Rs.3500/-
(4 Beds)
Location - Below Gompa
5 - 10 minutes working distance from
Gompa.

Room with breakfast
Above rates are negotiable at the time of actual booking. The hotels and guest houses mentioned above are within 1 kilometre radius from the center.
For hotels and guest houses in Kalimpong town area, search "hotels in Kalimpong town" on Google