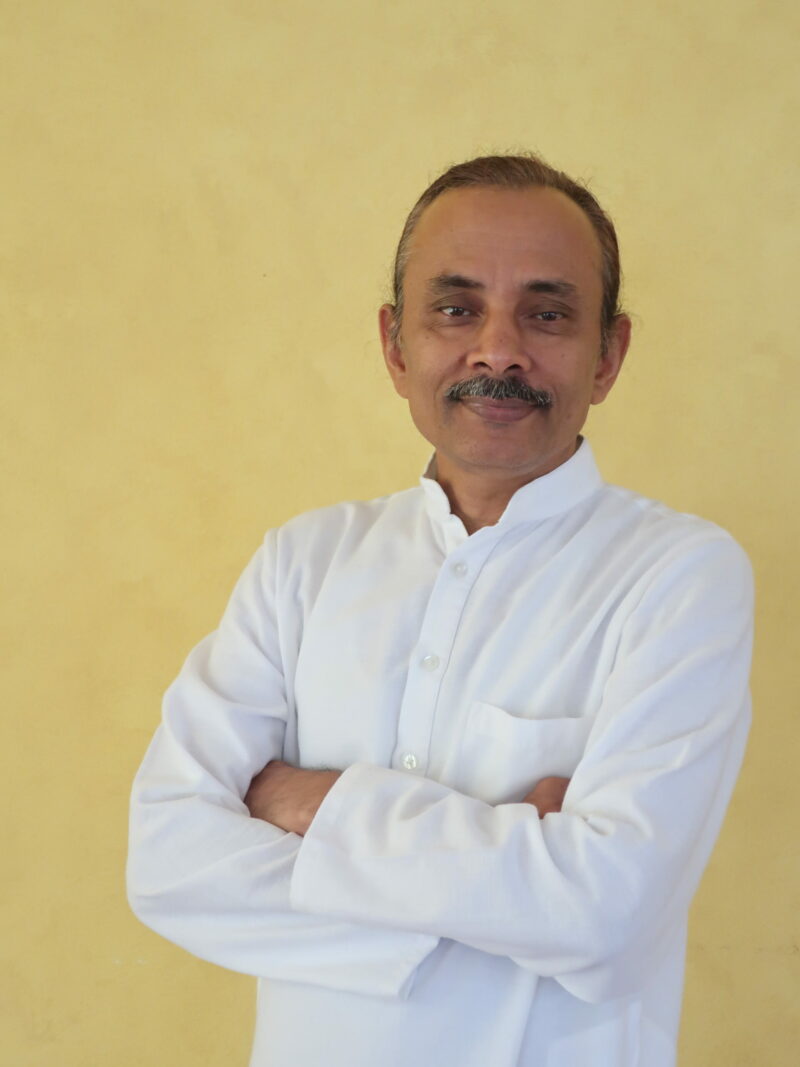 Decoding the Yoga Sutras: 7-Day Yoga Retreat
Decoding the Yoga Sutras – A Retreat with Acharya Kaushal Kumar
Yoga has been the base of the Indian culture since ancient times. Its roots are in the Vedas, which were the worlds first written books. The great Rishi Kapil is widely considered to be the founder of Sankhya and Yoga Philosophy. But the first book written on Yoga is by Maharshi Patanjali, which is unique, brief and precise. Without studying this classical text, it is impossible to get scientific knowledge about yoga. The Yoga Sutras by Patanjali is a book which explains deep secrets of the mind.
The mind is the resting place of all the happiness and miseries we experience in our lives. Patanjali understood the inner workings of the mind and its processes and has given an ultimate guide to eliminate all miseries and make you the most efficient human being. When the mind is devoid of thought is when its intelligence and wisdom are at its peak. That is when one gains direct access to one's consciousness.
In this class, we will decode the Yoga Sutras and break down all the terminology and principles of yoga & the mind, and explain them practically and logically.
The original book by Patanjali contains a few sutras that are exaggerated and unrealistic, which can mislead the real practitioners of yoga and can be detrimental for their practice. In this retreat, we will also clarify these claims using the universal laws of causality mentioned in Sankhya Philosophy. At the same time, we will debunk all the myths and lies that are commonly considered as facts in yoga, learn the methods in a scientific way.
In this retreat, you have the opportunity to live a yogic life and see a big change in your life's perspective. Each day will include yoga practice, yoga theory and meditation.
About the Teacher—
Acharya Kaushal Kumar resides in New Delhi, India. He has studied Indian Philosophy and Hatha Yoga at The Bihar School of Yoga followed by yoga and meditation with Saint Abhilash Saheb. He has since inculcated these practices and ideologies in his everyday life and been teaching students throughout India and around the world.
He has written many books on yoga, and his articles and columns are regularly published in newspapers and magazines. He has formed organisations in the name of Kaushal Yoga and Vigyan Yoga and Yogi Meter App in order to spread the true knowledge of Indian Scriptures and Philosophies in the form of books, classes, retreats and videos.
By Donation. Registration Compulsory. Accommodation & Meals as per actuals
Yoga Course Schedule—6am-730am class
7:45 am – 8:45 am Breakfast
9:00 am – 10:30 am Class
10: 30 am – 11:00 am Tea break
11:00 am – 12:00 Noon Class
12:00 – 2:30 pm Break
2:30 pm – 4:00 pm Class
4:00 pm – 4:30 pm Tea break
4:30 pm – 5:30 pm Class
6:00 – 7:00 pm Dinner
7:30 – 8:00 pm Meditation (optional)