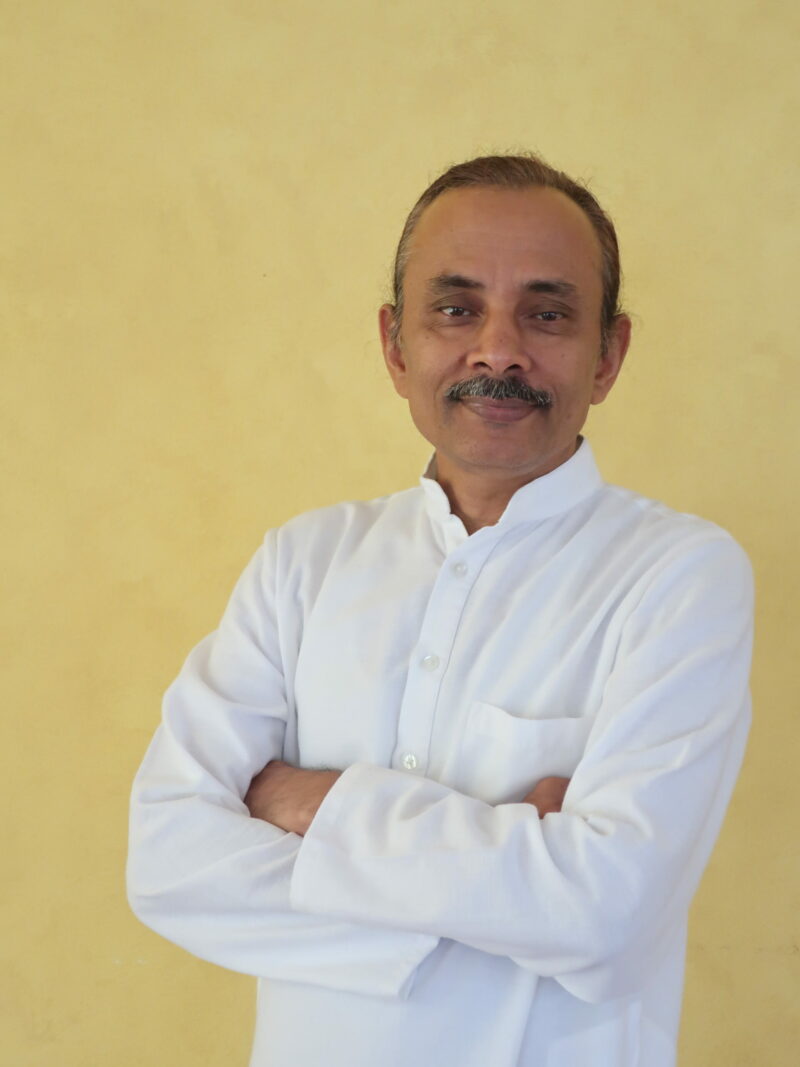 Postponed – The Study of Sankhya Philosophy
Due to unforeseen circumstances, this retreat has been postponed. New dates will be announced soon. Inconveniece regretted.
7-Day Yoga Retreat with Acharya Kaushal Kumar
Sankhya philosophy is one of the major nine Indian philosophical schools of thought. It is the oldest philosophy in the world. Param Rishi means Supreme Sage and refers to its founder, Kapil. All our oldest scriptures talk about him and regard him as the first born sage of India. Sankhya philosophy is the most rational and practical philosophy of the world. Although theistic by categorisation, it is, by nature, truly non-theistic.
The main concepts given by Sankhya philosophy are—
– Theory of evolution,
– Three Gunas- Satogun, Rajogun and Tamogun
– Satkaryavad, which means theory of causality and dualism.
The two types of entities Prakriti (primordial nature) and Purusha (soul) come into conjunction and this results in creation. The light of Purusha reflects on Prakriti and it gives the birth of intellect, ego, five subtle objects, five knowledge and five action senses, mind and five gross objects. It gives the order of creation from subtle to gross. It is a very rational concept. It desists from the imaginary and magical creation concepts of other philosophies and religions.
In this retreat, you will have the opportunity to live a yogic life and see a big change in your life's perspective. Each day will include yoga practice, yoga theory and meditation.
About the Teacher—
Acharya Kaushal Kumar resides in New Delhi, India. He has studied Indian Philosophy and Hatha Yoga at The Bihar School of Yoga followed by yoga and meditation with Saint Abhilash Saheb. He has since inculcated these practices and ideologies in his everyday life and been teaching students throughout India and around the world. He has written many books on yoga, and his articles and columns are regularly published in newspapers and magazines. He has formed organizations in the name of Kaushal Yoga and Vigyan Yoga and Yogi Meter App in order to spread the true knowledge of Indian Scriptures and Philosophies in the form of books, classes, retreats and videos.
By Donation. Registration Compulsory. Accommodation & Meals as per actuals.
Yoga Course Schedule—
6:00 am – 730 am Class
7:45 am – 8:45 am Breakfast
9:00 am – 10:30 am Class
10: 30 am – 11:00 am Tea break
11:00 am – 12:00 pm Class
12:00 pm  – 2:30 pm Break
2:30 pm – 4:00 pm Class
4:00 pm – 4:30 pm Tea break
4:30 pm – 5:30 pm Class
6:00 – 7:00 pm Dinner
7:30 – 8:00 pm Meditation (optional)