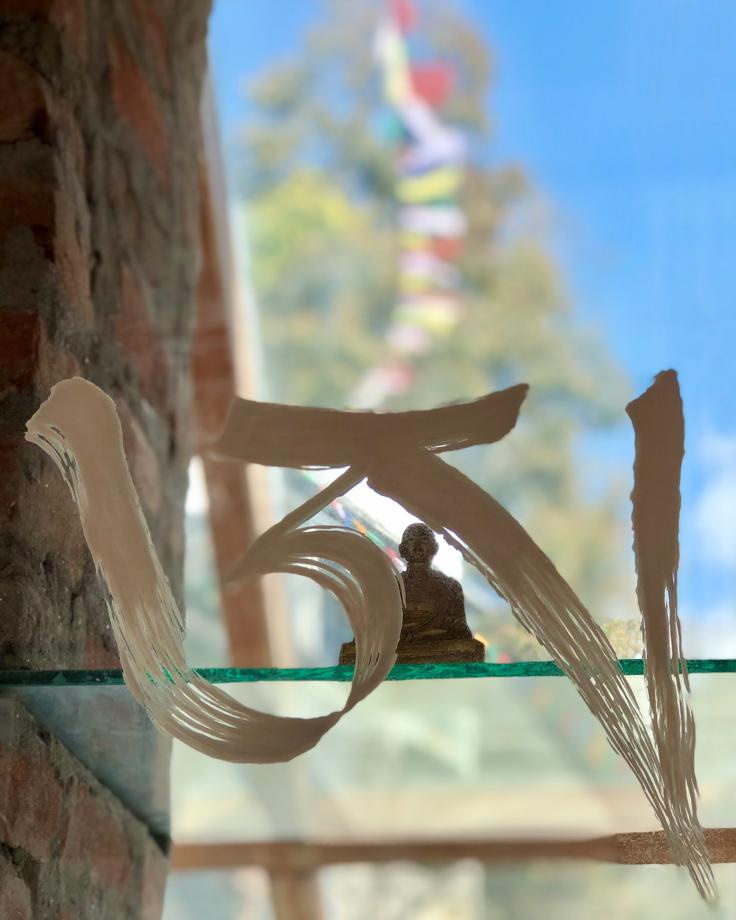 Vipassana: Tranquility Wisdom Insight Meditation Retreat
| Maitri | मैत्री विपश्यना शिविर |

A 10-Day Silent Retreat led by Venerable Sasana Deepika Khanti Khema and Dhammacariya Sobhana in Hindi and English.
The retreat takes you deep inside your mind with the help of Buddha's own original discourses known as suttas. A way to deal with everyday problems of life and find peace within while leaving in world and in day-to-day life.
The Buddha has taught an 'easy to understand' practice that is comfortable, light and fun to learn. It leads you down the Noble Path to understand the true teaching. This teaching has both, "Samatha" (Tranquil Wisdom) and "Vipassana" (Insight) woven into the practice. Lay people can practice his antidote for suffering to manage the challenges they face in today's world. By changing our minds, we change our lives.
About the Retreat Guides—
Sasanadipika Ven. Khanti Khema is a Suttavadin Buddhist Nun, ordained in 2006 by His Holiness, Most Ven. Bhante Vimalaramsi Mahā Thero. She co-founded United International Buddha Dhamma Society (UIBDS) & Dhamma Sukha Meditation Centre (DSMC). She is the foremost student of her teacher and a master dhamma and meditation instructor. She aspires to build a permanent Dhamma and Meditation School and Vihara to serve the Asian region. Her emphasis is to return this Humanitarian Practice to the place where it all began: India.
She emphasizes fun while training you and encourages you to ask all your questions and take this practice home into your life to share with others.
Dhammacariya Sobhana (Delson Armstrong) is a distinguished meditation and Buddhist studies teacher. He is regarded as a master meditation teacher in Tranquil Wisdom Insight Meditation. He dedicates his life to teaching the path to liberation through methodology laid out in the Buddhist sutras and guides beginners and experienced meditators in videos and 10-day retreats. His latest book "A Mind Without Craving" offers a detailed exploration into the nature of reality, behavioral reprogramming, karma, rebirth, consciousness, and liberation.
The retreat will start on 17th evening with a discourse and end on 27th morning after breakfast.
Schedule for November 18 to November 26—
5:00 am Morning          Wake-up
5:30 am – 7:00 am       Meditate in the hall
7:00 am – 8:00 am       Breakfast break
8:00 am – 9:00 am       Group meditation in the hall
9:00 am – 11:00 am     Meditate in the hall /room as per teacher's instructions
11:00 am – 12:00 pm   Lunch break
12:00 pm – 1:00 pm    Rest and interviews with the teacher
1:00 pm – 2:30 pm      Meditate in the hall or in your room
2:30 pm – 3:30 pm      Group meditation in the hall
3:30 pm – 5:00 pm      Meditate in the hall/room as per teacher's instructions
5:00 pm – 6:00 pm     Tea break
6:00 pm – 7:00 pm     Group meditation in the hall
7:00 pm – 8:15 pm     Teacher's Discourse in the hall
8:15 – 9:00 pm           Group meditation in the hall
9:00 pm – 9:30 pm     Question time in the hall
Students are not to take dinner unless there is a medical requirement.

By Donation. Accomodation and meals at actuals.
The Precepts
All who attend a Vipassana course must conscientiously undertake the following five precepts for the duration of the course:
to abstain from killing any being;
to abstain from stealing;
to abstain from all sexual activity;
to abstain from telling lies;
to abstain from all intoxicants.
There are three additional precepts which old students (that is, those who have completed a course with S.N. Goenka or one of his assistant teachers) are expected to follow during the course:
to abstain from eating after midday;
to abstain from sensual entertainment and bodily decorations;
to abstain from using high or luxurious beds.
Rules: The playing of musical instruments, radios, etc. is not permitted. No reading or writing materials should be brought to the course. Students should not distract themselves by taking notes. The restriction on reading and writing is to emphasize the strictly practical nature of this meditation.
Recording Devices and Cameras: These may not be used except with the express permission of the teacher.
Visit https://www.dhammasukha.in/ for information about the organization.